A DIN Expander for MRCC

A USB MIDI Interface

A stand-alone MIDI Merger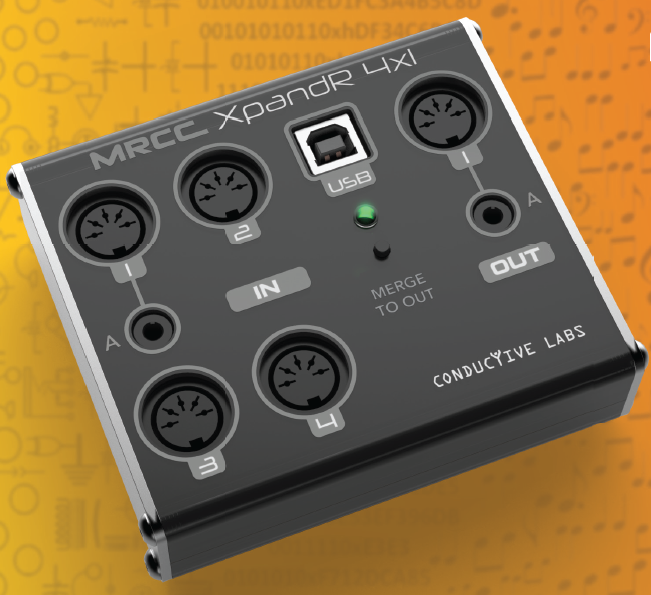 MRCC XpandR 4×1 – a DIN Expander for MRCC and USB MIDI Interface
4x DIN Inputs, plus 1x shared 3.5MM TRS MIDI Type A

1x DIN Outputs, plus 1x shared TRS MIDI Type A

4x USB MIDI Virtual Inputs and 1x Output

Dual color LED to indicate Power, Mode, MIDI Input and Output activity

Stand-alone USB Powered MIDI Merger Mode
Need More MIDI Inputs?
When MRCC's 6 routable DIN and TRS inputs just aren't enough, the MRCC XpandR 4×1 adds 4x DIN Inputs (and a shared 3.5mm TRS), and 1x DIN Output (plus 3.5mm TRS thru).
Up to four XpandRs can be attached to the MRCC's USB host ports. Inputs and the Output are routed the same way as MRCC's USB host MIDI virtual ports. So it's quick and easy to route XpandR's ports; it's like they were built-in to MRCC.
The XpandR is also a 4x Input, 1x Output USB class compliant MIDI interface for your PC, Mac, tablet, or what have you.
Or, use the Mode button to switch XpandR to a stand-alone 4 into 1 USB powered MIDI merger. In MIDI merger mode, the USB connector is only used to power the XpandR.
A two-color indicator shows Power, Merge mode, MIDI Input and MIDI Output activity.
The MRCC XpandR 4×1 comes housed in a robust and beautiful anodized aluminum enclosure with hand-silk screened user interface, like the MRCC. A USB cable and User Guide are included.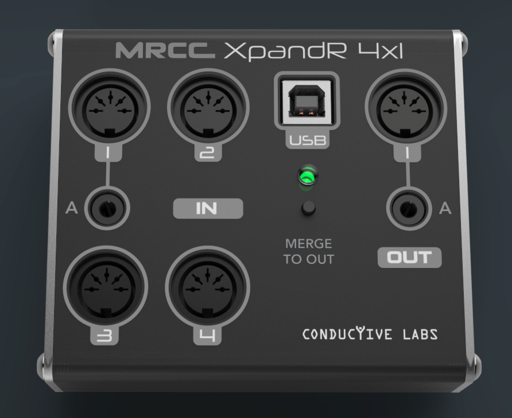 Estimated Availability, October 2022. Opt-In to be Notified of Availability.
(Allow cookies if the opt-in pop-up comes back after closing it.)
Requirements
Power:
USB 2.0, 5V DC, 40mA, USB type B connector
USB Power Supply not included. Power from MRCC USB Host port, your PC or other device host port, or for use without a PC, power with a USB charger or USB battery
USB MIDI Interface:
Works with PCs, Mac, Tablets and most other USB hosts that support a USB MIDI Class Compliant device.
Firmware Updates:
Requires a Windows PC, macOS, Linux or other computing device that supports USB mass storage mode.
Limited Warranty
Conductive Labs LLC provides a limited warranty of 1 year (or the minimum required by law in your country) to the original purchaser with proof of date of purchase. In case of failure due to defects in material or workmanship, for the duration of the warranty period, Conductive Labs will repair or replace the device at their discretion. If a replacement is not available, it may be replaced with a device of similar functionality.
MIDI I/O
Ports:
4x 5-Pin DIN, and 1x 3.5mm TRS (Type A) optically isolated Inputs.1
1x 5-Pin DIN, and 1x 3.5mm TRS (Type A) thru Output. Traditional 5V MIDI spec for maximum compatibility with vintage gear.
1x USB 2.0 Type B device port for computer connection with 4x USB MIDI virtual Inputs and 1x Output.
1 First input pair, choose one of the 2 jacks; 5-pin DIN or 3.5mm MIDI TRS Type A.
Remote 7 vs XpandR 4×1
Q: What's the difference in I/O between MRCC Remote 7 and MRCC XpandR 4×1?
A: The MRCC Remote 7 adds 5 additional routable outputs to MRCC. These outputs are already built into MRCC. One Remote 7 per MRCC.
XpandR adds 4x DIN inputs, and one DIN output at the expense of an MRCC USB MIDI host port. Up to four XpandR's per MRCC, using MRCC's available USB host ports.
Q: How far away can Remote 7 and XpandR be from MRCC?
A: The Remote 7 comes with a 10M (33 foot) long Ethernet cable. The maximum cable length is about 50 feet (using short MIDI cables).
The XpandR comes with a 2M (6 foot) USB cable. The max supported USB cable length for USB 2.0 is 5M (16.5) feet.
Q: How is each device routed?
Remote 7 is routed with the MRCC "remote routing" button. Hold the remote routing button, then select the outputs to route to.
XpandR is routed using the MRCC USB host routing buttons. Select one of the four inputs, then select outputs.
Remote 7 is great for getting MIDI outputs to where you need them. And XpandR is best when you need more MIDI DIN inputs, with the additional utility of a MIDI interface and MIDI merger. Feel free to use both!