Essential MIDI patch bay features give you exactly the connectivity you require. Slim, beautiful, and easy to configure without a PC, the MRCC 880 gets you quickly setup and productive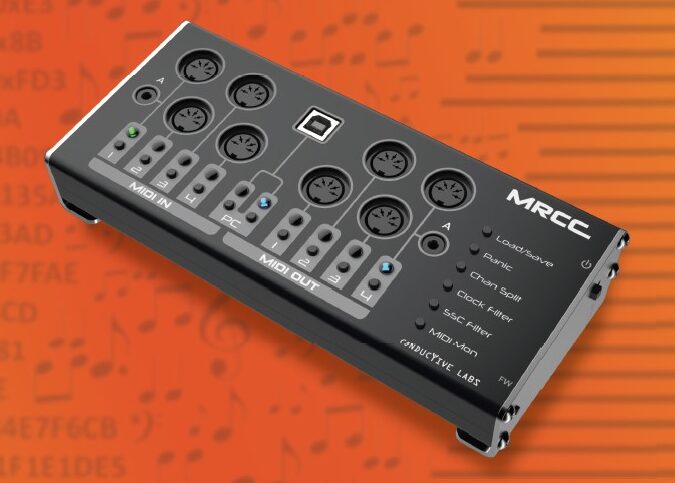 MRCC 880 MIDI Router and USB MIDI Interface 
4x DIN Inputs, plus 1x shared 3.5MM TRS MIDI Type A
4x DIN Outputs, plus 1x shared TRS MIDI Type A (thru)
4x USB MIDI Virtual Inputs and Outputs
One Button Per Port MIDI Routing
Automatic MIDI Merging
Save and Load Presets
Dedicated Panic Button
Clock and Start/Stop/Continue Filters
Per port MIDI Activity Monitoring
MRCC 880 – MIDI Router Flexibility,
Configuration Without a PC
The MRCC 880, with dedicated per port routing buttons, makes routing MIDI connections super quick! Simply select an input, then pick which outputs to route to. MIDI merging is automatic. Status and activity are displayed on per-port LED indicators. More advanced features such as Filtering, Channel Split, Panic and MIDI monitoring are configured with dedicated buttons. When your performance setup is complete, save it for recall later. All without needing a PC for configuration.
Essential Features for Your MIDI Studio
When you need the matrix MIDI patching of a MIDI Router, or you have outgrown a MIDI thru box or 1×1 USB MIDI interface, the MRCC 880 is what you are looking for. It has just the right number of inputs and outputs for a small desktop or live jamming rig:
4x 5-pin DIN inputs, plus a shared 3.5mm MIDI TRS
4x 5-pin DIN outputs, plus a shared 3.5mm MIDI TRS thru
4x USB MIDI virtual Inputs and Outputs
It's killer for DAWless jamming, but of course you can use it in the studio as a USB MIDI interface for your PC, Mac, or tablet. It's great for playing stand-alone soft synths, or connect it to your DAW and plug-in instruments. With the dedicated routing buttons, you can choose which inputs get routed to which output(s) at any time.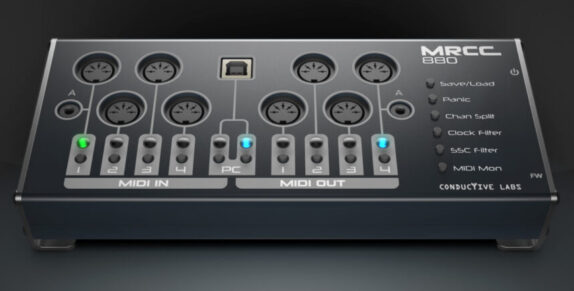 User Centered Design
The MRCC 880 was designed for crowded desktop music spaces. Its narrow form factor and vertical connectors ensure the best use of valuable real estate. An anodized aluminum enclosure gives it stability and durability. It will look amazing among your favorite gear with its vintage synth style and hand-silk screened user interface. The raised and angled cheeks provide enough space for cables to pass under the 880.
Now in stock at these select music retailers:
Juno Music (UK)
Patchwerks (USA)
Perfect Circuit (USA)
SchneiderLaden.de (Germany)
Signal Sounds (UK)
Coming soon to Thomann Music
Note: Due to negative connotations in some countries, the name has changed to MRCC 880.
Requirements
Power:
USB 2.0, 5V DC, 80mA, USB type B connector
USB Power Supply not included. Power from your PC or other host port, or for use without a PC, power with a USB charger or USB battery
USB MIDI Interface:
Works with PCs, Mac, Tablets and most other USB hosts that support a USB MIDI Class Compliant device.
Firmware Updates:
Requires a Windows PC, macOS or other computing device that supports USB mass storage mode.
Limited Warranty
Conductive Labs LLC provides a limited warranty for 1 year (or the minimum required by law in your country) to the original purchaser with proof of date of purchase. In case of failure due to defects in material or workmanship, for the duration of the warranty period, Conductive Labs will repair or replace the device at their discretion. If a replacement is not available, it may be replaced with a device of similar functionality.
MIDI I/O
Ports:
4x 5-Pin DIN, and 1x 3.5mm TRS (Type A) optically isolated Inputs.1
4x 5-Pin DIN, and 1x 3.5mm TRS (Type A) thru Outputs. Traditional 5V MIDI spec for maximum compatibility with vintage gear.
1x USB 2.0 Type B device port for computer connection with 4x USB MIDI virtual inputs and outputs.
1 First input pair, choose one of the 2 jacks; 5-pin DIN or 3.5mm MIDI type A
*Unlike MRCC MIDI Router Control Center, MRCC 880 is not expandable, or compatible with MRCC expansion modules such as Remote 7 or XpandR.
Features
Save/Load
4x Save slots
1x Init (clears settings)
Filters (per input):
MIDI Clock
Stop/Start/Continue messages
Panic button:
Sends MIDI "All Notes Off" to routed ports.
Channel Split:
Select an input and the channels will be split sequentially to the 4 DIN outputs.
For example, when Chan Split enabled for Input 1:
Output port 1 will send MIDI channels 1, 5, 9 and 13.
Output 2 channels 2, 6, 10, 14.
Output 3 channels 3, 7, 11, 15.
Output 4 channels 4, 8, 12, 16.
MIDI Monitor button to optionally indicate MIDI activity on port LEDs.
MIDI Merging is automatic. Just select the same output from a different input.
Dedicated Power Switch. We know you want it!