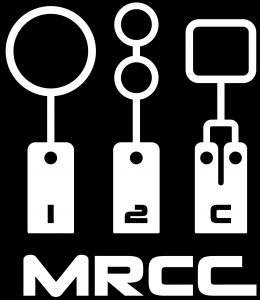 Reinventing the Classic MIDI Router
First we made The NDLR, an innovative Multi-part Polyphonic Arpeggiator. This time, we've set out to reinvent the MIDI Router. Why? Because it's what we needed in our studios and there was nothing like it.
What makes MRCC so unique? Routing, filtering, MIDI monitoring, and more are at your finger tips without needing a computer application for configuration. It will change the way you approach MIDI workflow when changing which controllers or DAW track are sending to which synths; when it takes just a couple of button presses you don't switch out of your creative space into IT mode. Studio life just got a lot better.
Massive MIDI I/O: 11 inputs and 17 outputs, including 5 PIN DINs, 3.5MM MIDI jacks in both flavors, 4 USB host ports, and a USB MIDI class compliant client (PC, Mac, tablet, etc.) connection with 12 MIDI ports. With automatic merging, MIDI master clock with CV clock out, filtering and MIDI effects, and MIDI message monitoring. Save your patches and recall them with Program Change or on the screen. Our customers say they were waiting all of their life for this!
It's super deluxe: featuring one button routing for each physical input and output, RGB LEDs, and OLED graphical display, everything can be easily setup without a PC. Unlike devices with front and rear facing connectors, MRCC's vertical ports are designed to use the smallest footprint, saving your desk space for more synths! MRCC is Rack mountable too, with the available 2U Rack Ears. See them in our shop, or check with your local music equipment shop.
Expand and extend your outputs up to 50′ away with the MRCC Remote 7. Need even more? Connect 2 MRCC's together with a single Ethernet cable for remote routing up to 32′ (10m) apart. And the MRCC XpandR 4×1 will add more DINs using an MRCC USB host port.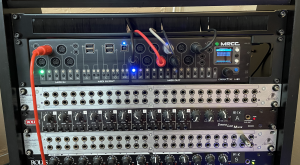 MRCC – MIDI Router Control Center and accessories are available at these fine shops:
ControlVoltage.net (Portland OR, USA)
Juno.co.uk (London UK)

Patchwerks.com (Seattle WA, USA)
PerfectCircuit.com (Burbank CA, USA)
SchneidersLaden.de (Berlin Germany)
SignalSounds.com (Glasgow UK)
Thomann.de (Germany, Worldwide)
The cost of shipping from Hong Kong has tripled in recent years. To help ease the pain, get an instant, up to $80 USD Shipping Credit with the purchase of MRCC, or check the shops above.
Merge and Route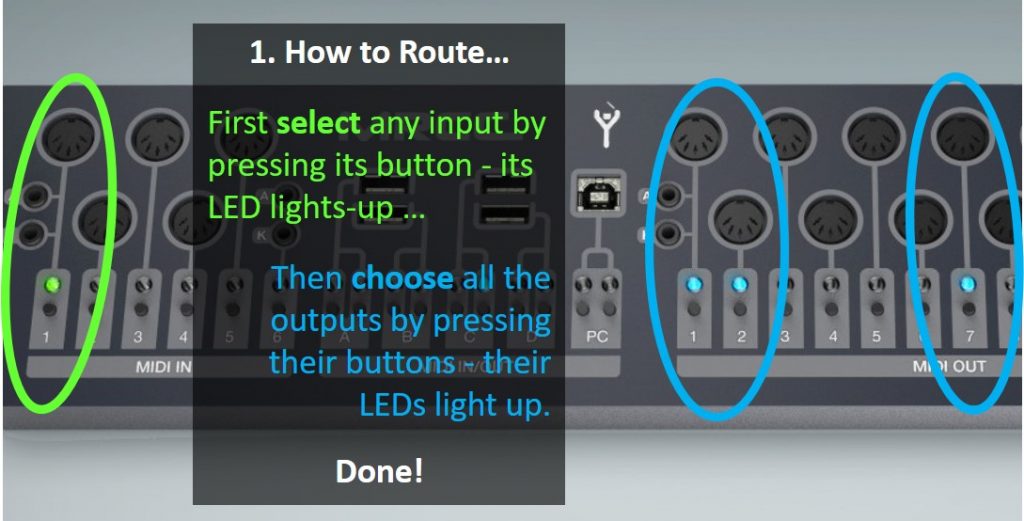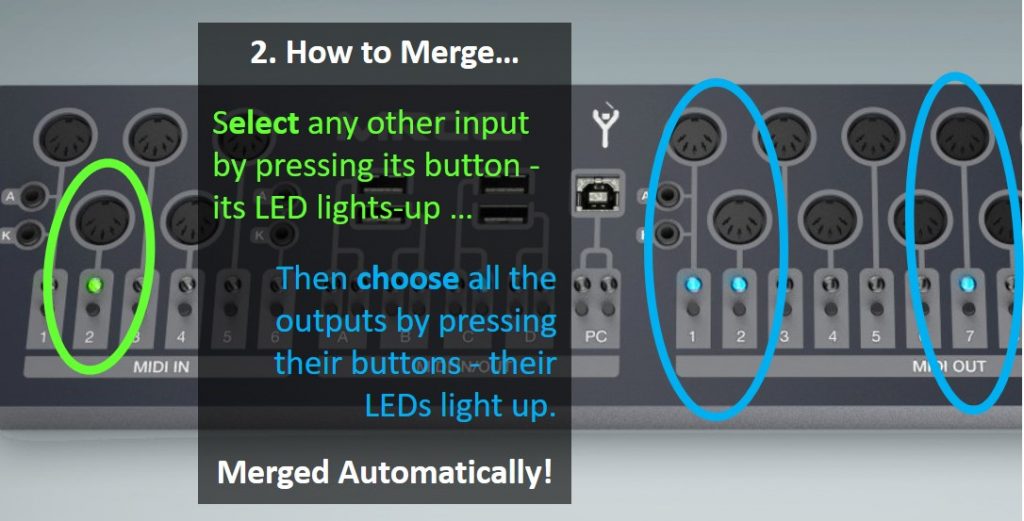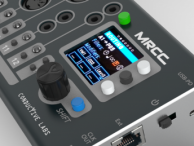 User Centered Design
All MIDI cables plug vertically into the top panel which frees up valuable table space. The top panel graphics connect each button-jack pair so you know exactly which device you are routing or filtering.
Routing MIDI paths and configuring MIDI filters is easy with the full color LEDs and the one button per input / one button per output front panel layout.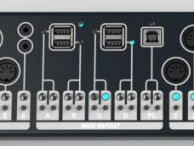 Modern Connectivity
11 inputs and 17 outputs, including 5 PIN DINs, 3.5MM MIDI jacks (in both type A and type B flavors), 4 USB host ports (with 4 virtual USB MIDI input ports each), and a USB MIDI interface client connection with 12 USB MIDI virtual ports. Everything you could want for connecting MIDI gear in your studio.
For more advanced tasks use the graphical interface on the sharp color OLED display. Using the tabs and folders style UI with the cursor buttons and encoder makes navigation simple. Once the MRCC is configured, save it to memory for recall later. All this with no confusing PC app.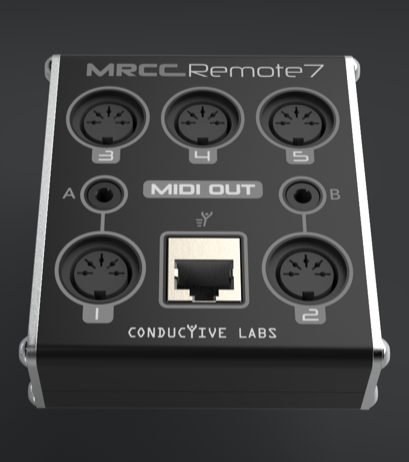 Expandable
The optional MRCC Remote 7 provides a convenient, clean solution for getting MIDI outputs to a remote location, such as into a 19″ rack or to your keyboard stand. The Remote is connected to MRCC with a single shielded Ethernet cable, eliminating a bundle of long MIDI cables.
If you need even more ports, connect two MRCCs together! Add more DIN inputs with the MRCC XpandR 4×1
Accessories
Expand the MRCC with the MRCC Remote 7. It adds 5x routable 5 pin DIN connectors, with 2 shared 3.5MM TRS (in both A and B flavors). It comes with a 10 meter (32′) Ethernet cable to get MIDI outputs to where you need them, without a bunch of long MIDI cables.
Need more DIN Inputs? Get the MRCC XpandR 4×1. More details here.
Rack mount the MRCC with 2U Rack Ears. These strong, powder coated steel rack ears mount the MRCC in a standard 19-inch rack.
*Accessories sold separately.
Some examples of the MRCC menu screens.

The OLED display is expensive, but looks so good (way better than these pics)

Check out some videos demonstrating MRCC (more on our YouTube channel here):
The Hardware
Requirements:
International AC/DC power supply included
Input: 100~240V AC
Output: 5.25V DC, 3A USB type C connector

USB Host ports only for USB MIDI class compliant devices*, or USB PC keyboard for entering labels. *not all USB MIDI devices will be compatible with MRCC USB host ports. Check the MRCC USB host compatibility tracker.
MIDI input devices and sound modules that meet MIDI standards, including MPE (MIDI Polyphonic Expression) devices are supported
Personal Computer (running Windows, OSX or Linux) for firmware updates.
Physical Layout:
Dims: 15.5" x 3.5″ x 1.9″
28 routing buttons, plus remote routing button and stand-by button
Color OLED Screen
Encoder and navigation buttons
Power switch
Recessed firmware update button
Physical Input/Output:
5x MIDI 5-Pin DIN Inputs
2 jack selectable 3.5MM TRS MIDI (type A and B) input (shared with 1x 5 pin DIN), choose 1 of the 3
2 jack selectable 3.5MM TRS MIDI input (MIDI type A and B) choose 1 of the 2
All MIDI Inputs are optically isolated, and traditional 5V MIDI spec Outputs
4x USB 2.0 USB MIDI Host ports (4 virtual ports per In and 1 per Out)
1x USB Device port for connecting to a PC or tablet. With 12 individually routable USB MIDI virtual I/O ports (16 channels per port = 192 channels in and out).
10x MIDI 5-Pin DIN Outputs
4x 3.5MM TRS (2x type A and 2x type B, thru) can be used simultaneously
1x Clock Out 3.5MM jack (use a mono (TS) cable)
1x RJ45 for optional MRCC Remote 7 or MRCC to MRCC connection (not Ethernet)
Limited Warranty:
MRCC and MRCC Remote 7 comes with a limited warranty to the original owner for 1 year (or the minimum time required by law in your country) from the time you received it.
Consumables, such as the MicroSD card and USB cable accessories have a 90 day limited warranty.
Features
I/O – 11 in x 17 out routable and filtered MIDI ports (19 output connections counting MIDI thru ports)
Automatically merges Inputs, when routing to a common output.
Message filters – clock, note on/off, CC, prog change, & Stop/Start/Continue
Mappings – velocity scaling, channel splitter mod, & 12 PC virtual cables on the PC port. Each USB host port has 4 USB MIDI virtual In cables and one out. You needed 4 Ins for The NDLR, right?
Tools – Save/Load (127) presets*, use MIDI Program Change to change patches. MIDI routing tests for all ports and channels, & Visual MIDI monitors
*Save up to 50 routes per preset. This may be expanded in the future, but currently you can't route everything to everything all at once.
And more – MIDI CC control for MRCC Arpeggiators and Clock
CV Clock Out, for use with MRCC internally generated clock w/ configurable PPQ (1, 2, 4 and 24PPQ). 5V or 12V selectable
Connect MRCC to another MRCC with an Ethernet cable. With remote output routing! Looking for more information or have a question? See the User Guide on the Download page, or ask in the

Forums
And More …
MIDI panic (shift + encoder)
Multiple Arpeggiators
Keyboard Splits and layers
Velocity mapping (e.g., compress velocity from 0-127 to 0-100 for DX7)
CC mapping and scaling. Velocity and aftertouch can map to CCs (e.g., Volca FM CC for velocity, or use for modulating synth parameters)
Port labeling with a compatible (US) USB keyboard. Auto learning USB device labels plus built in labels
Hal 1999 AI reads your mind menu system. Press the encoder to jump between context appropriate screens
MIDI message indicators on Routing screens (you won't know how you lived without this), including channel and clock indicators
Full matrix routing monitor with clock source indicator(s)
MIDI message monitor
RGB LED light shows, including MIDI Port activity and MIDI Notes activity
We will update this section with details of other functionality as firmware updates are released
ACCESSORIES
MRCC Remote 7
The available Remote 7 MIDI extender cleanly adds 5 routable MIDI outputs across the room to your keyboard rack, 19″ rack, or wherever you need them, with a single Ethernet cable
It adds 5x 5-Pin DIN MIDI ports. Two of which have both 5-Pin and 3.5mm ports
Included with the Remote 7 is an appropriate "connector shielded" CAT6A Ethernet cable. Length 10 meters (32 ft.).
Supports up to 50 feet* length cable
*MIDI Spec says max MIDI cable length is 50 ft. So if you have a 50 ft. Ethernet cable you should not use long MIDI cables on the Remote.
The RJ45 jacks on the MRCC and Remote 7 are not Ethernet. DO NOT connect it to any Ethernet devices
Only one Remote 7 may be connected
The Remote 7 outputs, like MRCC outputs 7-12, support SysEx data too.
MRCC 2U Rack Ears
Mount the MRCC in a standard 19 inch rack, with the available MRCC 2U Rack Ears.
Made of steel and powder coated for longevity. Mount the MRCC in a 2U space.
MRCC XpandR 4×1
Need more 5 pin DIN inputs? Plug the MRCC XpandR 4×1 Expansion into an MRCC USB host port to add 4x routable 5 pin DIN inputs and 1 output, plus 2 shared 3.5MM TRS MIDI jacks
Use it with MRCC for more routable ports, or plug it into your computer as a MIDI interface with 4 USB MIDI virtual Inputs and 1 Output, or use it stand-alone with the 4 in to 1 out MIDI merger mode.
Its USB powered with traditional 5V MIDI spec output.
See details here MRCC XpandR 4×1
MRCC Expansion Splitter:
A custom RJ45 splitter lets you connect 2 MRCC's and one Remote 7 (per splitter) together. Without the splitter, you can connect 2 MRCC's together, or use a Remote 7 but not both.
In this mode, the Remote 7 ports are not individually routable, but act as MIDI thru ports for one MRCC, Outputs 1-5.
Ask about it on our forums if you have 2 MRCC's and Remote 7.